Landscape
Whangarei has an interesting landscape thanks to the Whangarei volcanic field with 3 large and 10 smaller volcanic domes lying around. There is the scenic coast line along the calm Whangarei harbour with its many picturesque bays and the spectacular beaches and bays of the open ocean, of which all have a very different character, add to this mix the volcanic rocky hilly countryside and you have a fascinating area to explore.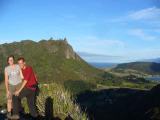 An area with peaceful lagoons and bays, wild and untouched surf beaches, rivers and waterfalls next to bush and mangroves, steep jungle covered extinct volcanoes and endless rolling fields for grazing cattle.
More information about New Zealand landscape.