Plants
First of all, it's green everywhere here! After a while you get used to it and start to appreciate the individual plants and details. Due to the mild winter climate with hardly any frosts most tropical and subtropical plants grow well, just look at the exotic Subtropical Quarry Garden for proof, but the bush is still foremost a native one and most of it protected. While there are all sorts of palms in the gardens, there are mostly Nikau in the forest.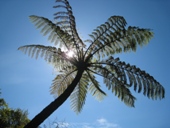 Even big Kauri trees can be seen, and there are many other impressive Pohutukawa, Puriri or Totara trees to be found. Also plenty of other typical New Zealand plants can be seen in the bush. Many types of ferns and tree ferns grow well in Northland and there are many fine examples to be seen in the bush, especially the New Zealand Silver Fern, the Ponga.
The climate also favours the many avocado, grapefruit, lemon and orchid plantations. On the other hand, also introduced pest plants like gorse thrive beyond control, while possoms munch away on tons of fresh native tree shoots every night, killing off a lot of native trees.
More information about New Zealand plants.