All Flax – Maori flax weaving
How to buy
Examples of flax weaving (for sale on request)
About flax weaving
My flax pa
About me
How to buy
Tena koutou! Weaving a flax flower is part of my tours, but if you would like learn more, purchase a piece on this page or would like something made to order, please send me an email. Contact me to find out which pieces are available at the moment and where – often people ask me for a commissioned piece made to a certain budget, usually that is no problem and favourite colours can be considered as well.
If you prefer to discuss by phone, please provide your telephone number and I will be happy to call you.
Delivery is either direct in Whangarei or by post (extra charge).
Pieces are available at Tuatara Design Store in Whangarei, The Bach at the Town Basin Whangarei, Geoff Wilson Gallery at Northtec and the Depot Artspace in Devonport.
Also private flax weaving lessons (for travellers or locals) can be arranged.
See my All Flax Facebook page!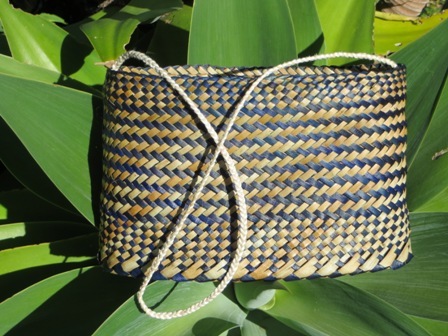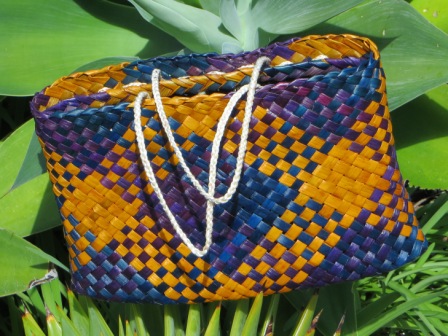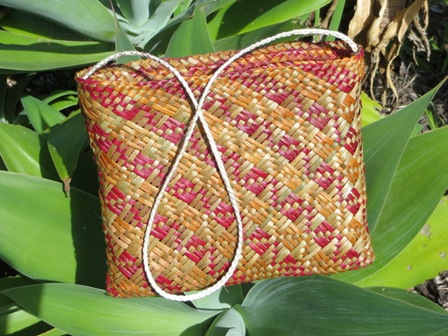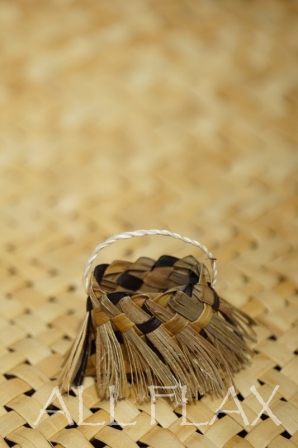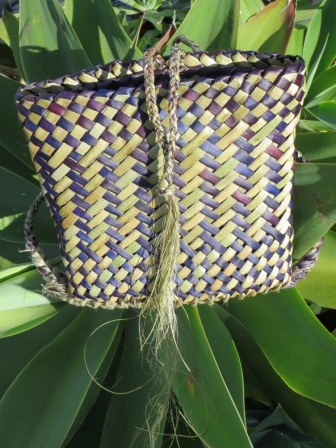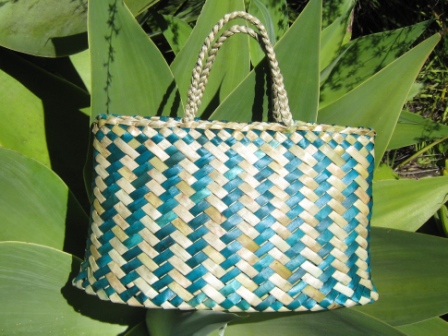 About flax weaving
New Zealand flax (phormium tenax) is unique to New Zealand and is not related to European flax (photo of flax). When Maori first arrived from warmer Polynesia it was very important for their survival, flax was used in countless forms (clothes, housing, ropes, traps, nets, storage, medicine, toys etc.) and was also later traded in huge quantities.
Over the centuries, its everyday use has evolved into a wonderfully complex art form. Weaving was an expert's task, performed under a spiritual tapu – an ancient set of rules which myself and other weavers still adhere to today (e.g. no harvesting during rain, no food during weaving and many other ways to show respect to the plant).
Flax can be dyed with traditional or modern colours, also enhancing the many possible weaving patterns. Apart from weaving the green flax blades, the white fibre can be extracted (muka) and also woven.
Flax needs to be prepared well by the weaver to avoid shrinking, shrivelling and changes of colour. Keep your flax items out of direct sunshine as it could fade colours. Avoid humidity, it is a natural fibre so if you do see signs of mould then you can treat it with boiling water and drying well afterwards. My products are made for everyday use and are tougher than they look, a bag (kete) should be usable for many years.
Some flax weaving words:
Harakeke – flax plant
Kahu pokowhiwhi – shoulder cape
Kete – bag
Kete whakairo – bag with pattern
Korari – flax flower, flax plant (Northland)
Kupenga – netting knot
Muka – flax fibre
Pa harakeke – collection of flax plants for weaving
Parou – four corner baskets
Pikau – backpack
Potae – hat
Putiputi – flower
Raranga – weaving
Whenu – single flax strip
My flax pa
There are only two species of New Zealand flax, but over a hundred different 'cultivars' with varying use for weavers. Thanks to New Zealand Landcare Research the best flax plants have been preserved in a national collection and in 2011 I was able to plant a small 'pa harakeke' in our garden with some of these special specimens.
About me
I was curious that flax growing in the garden could be woven. I started my Iearning from books and friends, but I was hooked after attending my first weaving wananga (place of learning) at a marae (Maori meeting house), Pa Te Aroha in Whirinaki, Hokianga. There I learnt how to weave parou and kete. I now weave 4 times a year in Hokianga, have attended my first national weaving hui (meeting) in Kawerau and meet other keen weavers every few weeks to try out new techniques, colours, finishes etc. I love learning about the Maori tikanga (protocol) around the usage of flax and am continually surprised at how versatile this humble plant is. I hope to weave for many years to come and I thoroughly enjoy producing beautiful things from something that grows in my garden.
Exhibitions and memberships:
Member of Te Roopu Raranga Whatu o Aotearoa
Pa te Aroha weaving group, Whirinaki Marae, Hokianga
GRID (joint exhibition), Waiheke Community Art Gallery, Waiheke Island, Jan 2018
O.T.P. Art & Craft Working Exhibition, Bream Bay, Jan 2018
Fibre resource artist at CollaboratioNZ 2017, a biennial week-long art event
'Toi Pae Matua' diploma in Whakairo at Te Wananga o Aotearoa, 2017
Guest artist at the Whangarei Art Trail, 2016, 2017 & 2018
The Quest, Whangarei, 'Kokiri – to Thrust Forward', December 2016
Matariki TAKU AHI exhibition, Quarry Arts Centre, June 2016
ONEONESIX BANK STREET, Whangarei, Oro Pukaea exhibition, June 2016
'Woven Together' – co-exhibition with Elke Radewald at the Whangarei Quarry Arts Centre, May 2016
The Office Cafe Maungatapere, first exhibition, October 2014, see brochure
Tutor for Pehiaweri Marae Weaving Learning Experiences, Whangarei, 2014
Kawai Raupapa Certificate in Art (Whakairo), Te Wananga o Aotearoa, 2013-14
Kohukohu Village Art Gallery, with the Pa te Aroha group, May 2011
Te Karanga Gallery, Auckland, with the Pa te Aroha group, September 2011
Nga mihi nui ki a kouto, Wendy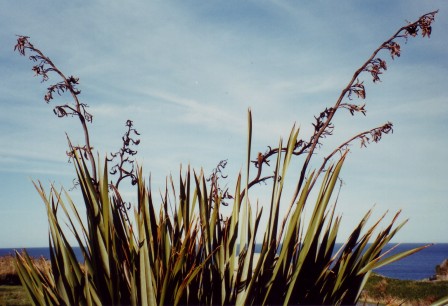 Traditional prayer (karakia) for flax weavers:
Te Harakeke, Te Korari
Flax
Nga taonga whakarere iho
the treasure passed down to us
O te Rangi. O te Whenua. O nga Tupuna.
by the sky, the land, the ancestors
Homai he oranga mo matou
gives us health
Tihei mauri ora
for our life force